Stump Grinding Palm Bay FL
In some days when you checkout your yard and feel awed at how consistently cut the grass is, how lively the surroundings are or how that blossoming bush plant makes the whole front garden look so beautiful. You move your eyes to that furthest corner where you see a tree stump. That doesn't look good.
This is the where Palm Bay Tree Service Pros come in.
In many cases, homeowners like you ask here can I find a stump removal service company in PAlm Bay, Florida?
No more stress. Our talented crew will carry out the responsibility for you. You just simply get in touch with us about stump removal Palm Bay Florida. With our broad learning and experience on stump removal and grinding, we are fastidious in diminishing tree stumps. Our arborists are viewed as specialists in this field.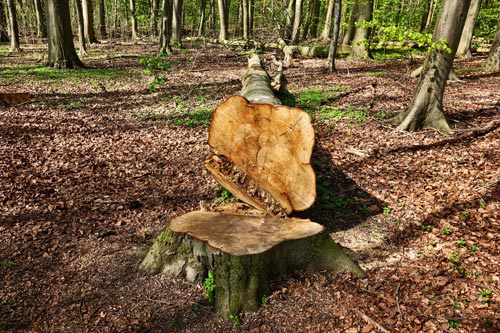 Tree stumps and roots can be an annoying problem in the garden. Removing a tree stump by digging it out manually is a tough and time-consuming job, and in most cases it is impossible to do with muscle power.
Palm Bay Tree Service Pros regularly encounters customers who have already made long-term frantic attempts to remove a stump with a chainsaw. In one instance where we were called for a stump removal job, we found a broken spade and a worn out chainsaw in the garden and in the middle of it stood a large tree stump that still could not get an inch of movement
This happened because one needs the right tools for removing tree stumps, this is definitely not the chain saw. The right tool is the stump grinder.
Remove tree stump with stump grinder
People often do not seem to realize that the roots of trees are very firmly anchored in the ground. After all, the tree must be able to withstand strong winds and even storms. It is therefore not surprising that a tree stump is not easy to cut, saw, hit, push and lift. What is visible in branches above ground is held back in all weather by a proportionally large system of roots below ground.
These roots cannot be cut with a chainsaw. The metal saw teeth of the chainsaw cannot withstand sand and become blunt in a few seconds after contact. Cutting roots are then no longer possible. In addition, it is very dangerous to saw with the tip of a chainsaw. The chainsaw can shoot away and cause serious injury.
This is why our main weapon for stump removal is the stump grinder. The stump grinder is particularly effective in removing tree stumps and roots from the soil. The machine can work in the sand and in no time you will be rid of the tricky stumps.
The quickest way to remove a tree stump is by using a stump grinder. This is also the cheapest way to remove a tree stump and in most cases a hired company will also apply this method. The use of a stump cutter has the great advantage that it can work in the ground up to a depth of approximately 50 cm. Not only is the stump removed, all tree roots are also removed immediately. A stump cutter ensures that nothing remains in the ground.
An additional advantage is that heavy stumps do not need to be moved and carried for disposal. After all, these are shredded into sawdust by the stump grinder.
Professional Tree Stump Removal
Choose Palm Bay Tree Service Pros to remove your tree stumps today.
20 years of experience in the tree business
Certified Tree Workers employed
Quality for a good price
Experienced specialists who continue to train
No job is too big or small
Well maintained and licensed equipment
To remove tree stumps we use strong, compact stump grinders with which we can reach almost all spaces and can remove virtually all stumps. Our smallest stump cutter is only 70 cm wide, and can also be opened through doors in the house. Our stump cutters cut the tree trunks into small wood chips that can be removed or spread in the garden – they then easily digest into compost. We can remove tree trunks and roots up to 50 centimeters below ground. The vacated space can then be used for new cultivation,landscaping, planting or paving.
The way we remove tree trunks is the cheapest, fastest and safest way. The damage in your garden or on your site remains minimal because our stump cutters have caterpillar tracks so that the weight remains distributed on the ground. The stumps and tree roots are also milled immediately and do not have to be dug around it. We will of course ensure that your garden or grounds are left tidy and in good condition.
Stump removal costs
The cost of removing a tree stump is highly dependent on the size of the tree stump. It can be somewhere between a few hundred to a few thousand of dollars per tree stump depending on the size.
The accessibility or the location of the tree stump can also be a factor in the price. Removing a tree stump in a crowded area entails more costs than anywhere else in the countryside.
The number of stumps of course also affects the price. If you have several trees removed at the same time and you also want all tree stumps removed, the price per tree will considerably be lower as it will be priced in bulk. In such a case, it is always wise to request a clear quote in advance so that you know where you stand.
We recommend that if you want a company to remove your tree stump, you should choose a company that is well known and trusted in your area. They have knowledge of the local legislation, the local weather and land situation and the chance of the company charging for travel costs is very minimal.
Do you want to know how much your stump removal can cost? Then contact us without obligation. We will ask you a few questions about the situation and we will send you a free quote. We are available quickly and 24 hours a day through phone or through our contact form here on our website.